Happy New Year from everyone at Martin Chiropractic and we wish all of you a blessed and healthy year in 2012.  Like it has for the last fifteen years, the Christmas Season at Martin Chiropractic was highlighted by our annual Toys For Tots toy drive and we want to thank all of you who made this years event another huge success.  Our patient family, sponsors, colleagues and the community all pulled together to help make Christmas morning a special day in many local families where that would not have been possible without the hundreds of toys that you donated through our office and distributed by Ivan, Claire, Dave and the rest of the wonderful volunteers at the Salvation Army.
This year the toys created a mountain in the lobby virtually engulfing the Christmas tree which you can see poking out of the top in this picture.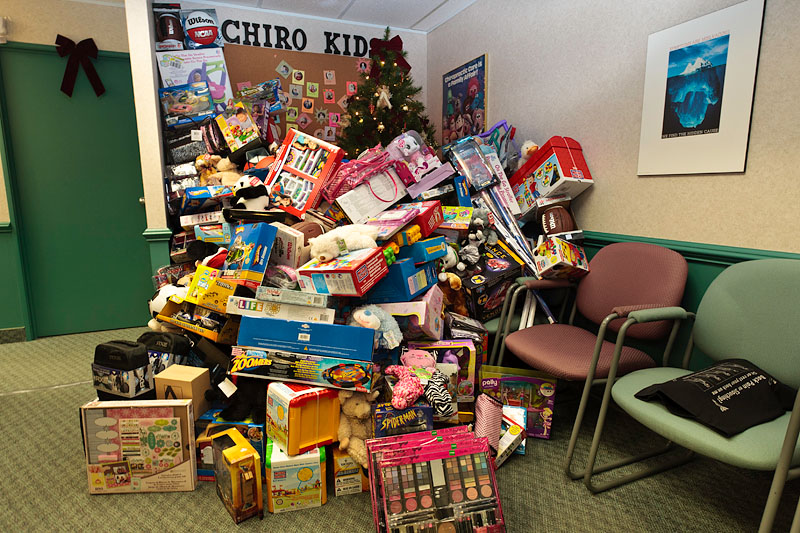 In all there were about 500 high quality toys collected.
Thanks to all our loyal sponsors who donate significant prizes year after year to help make the day the success that it is.  Click on this link to see who they are and better still take advantage of their services throughout the year.  We recommend them most highly.
We would also like to thank Nancy, Deby and Linda, our fabulous team at the office for all the hours they spent preparing for Toys For Tots as well as making and preparing so much of the food that we all enjoyed throughout the day.  I'm sure they are already planning next year's Toys For Tots which will be on December 3, 2012, so mark your calendars and plan to take part again!