For to us a child is born, to us a son is given;
 and the government shall be upon his shoulder,
and his name shall be called
 Wonderful Counselor, Mighty God, Everlasting Father, Prince of Peace.
  Of the increase of his government and of peace there will be no end,
 on the throne of David and over his kingdom,
  to establish it and to uphold it with justice and with righteousness
  from this time forth and forevermore.
 The zeal of the LORD of hosts will do this.
With Christmas only a couple days away, we are reminded of this passage from Isaiah 9, where the prophet Isaiah records the promise of God to one-day send Immanuel to deliver His people – and now we celebrate that great day when Jesus was born, fulfilling this prophecy and changing the course of human history.
Christmas is not only a time to reflect on the birth of Christ, but it's a time we celebrate family, friends, and all the blessings we have – and we are so grateful to have been able to serve our family of patients over this past year.  We have the privilege of serving many families, adjusting patients of all ages, and we look forward helping even more families in the new year.
We are fascinated by the fact that the same God who made Christmas possible is the same God that created and designed each one of us, and we are humbled by the responsibility we have as chiropractors to help our patients achieve optimal health and wellness through a nervous system free of interference.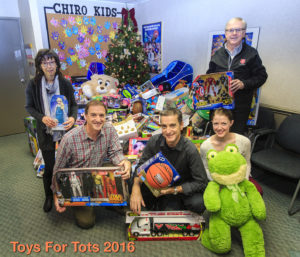 We would like to take this opportunity to thank you for another great toy-drive this year, the Salvation Army filled their truck full of toys donated from our family of patients.  The challenge to give back to our community was once again met with great success!
From all of us here at Martin Chiropractic – Merry Christmas and Happy New Year!